Overview
The following photographs and text are typical examples of the content found on the BBC Domesday Community laserdisc.  The articles are from two adjacent D-blocks that cover the central area of Manchester.  The following picture shows the level 3 map of the blocks (note: the image is a panorama of the two level 3 maps provided by the Domesday disc):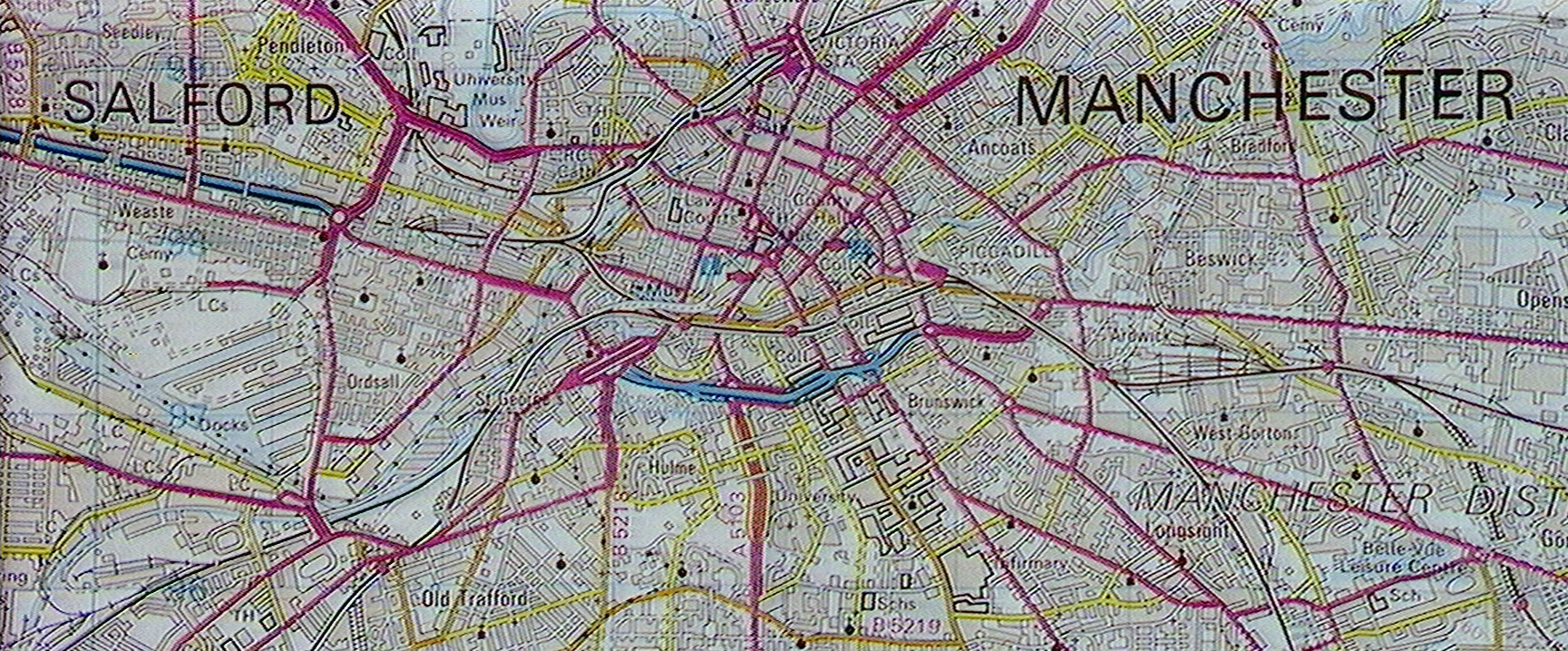 In addition to the level 3 map, the Community disc often provides a level 4 map covering central areas of big and/or important cities.  The central Manchester area has a good coverage of level 4 maps.  Part of the available level 4 maps (from the same D-blocks) are shown in the following panoramic composite of the images from the laserdisc: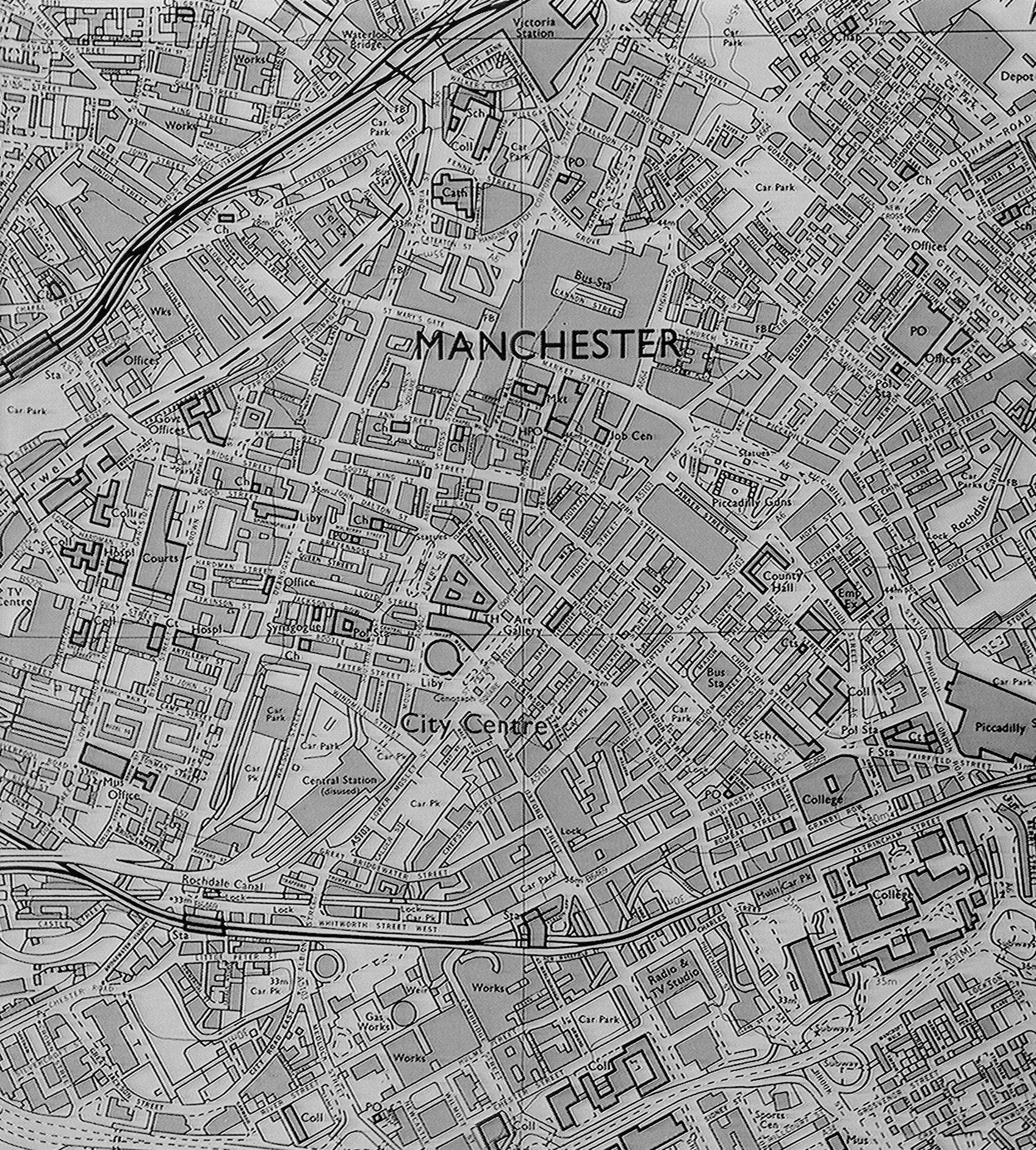 The level 4 map of Manchester also includes an additional photograph (which is unusual for the Community disc as most photographs are level 3), there is no caption or description for the photograph:
Please note that the following text has been edited for clarity (the original Domesday text articles contain a lot of typos and spelling errors that were not corrected by the BBC before publishing).
D-block GB-380000-396000 (SJ 80 96)
Photographs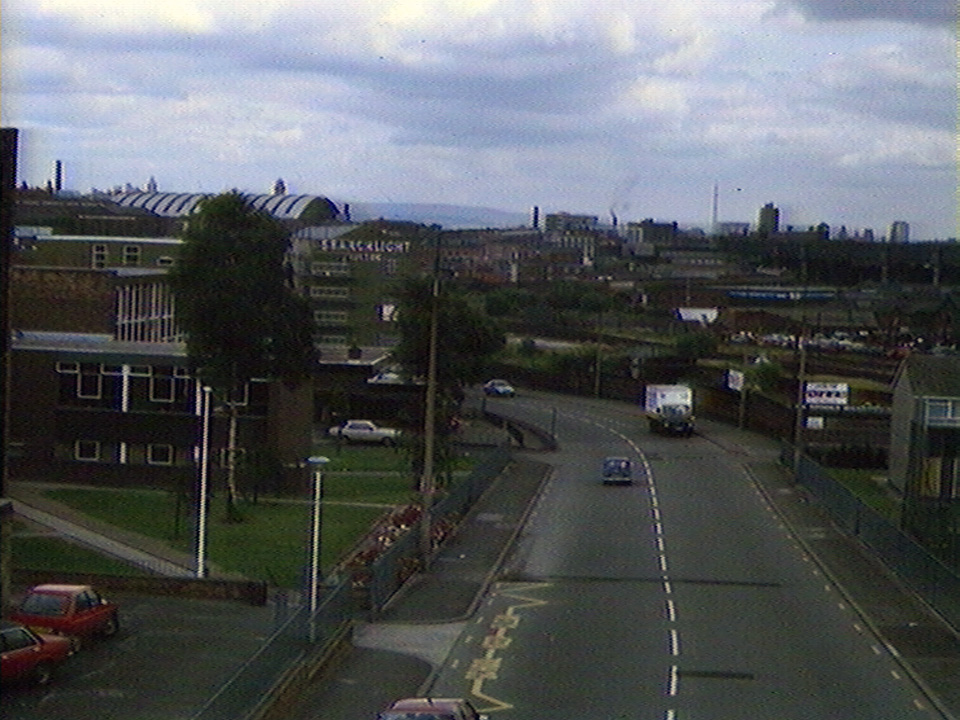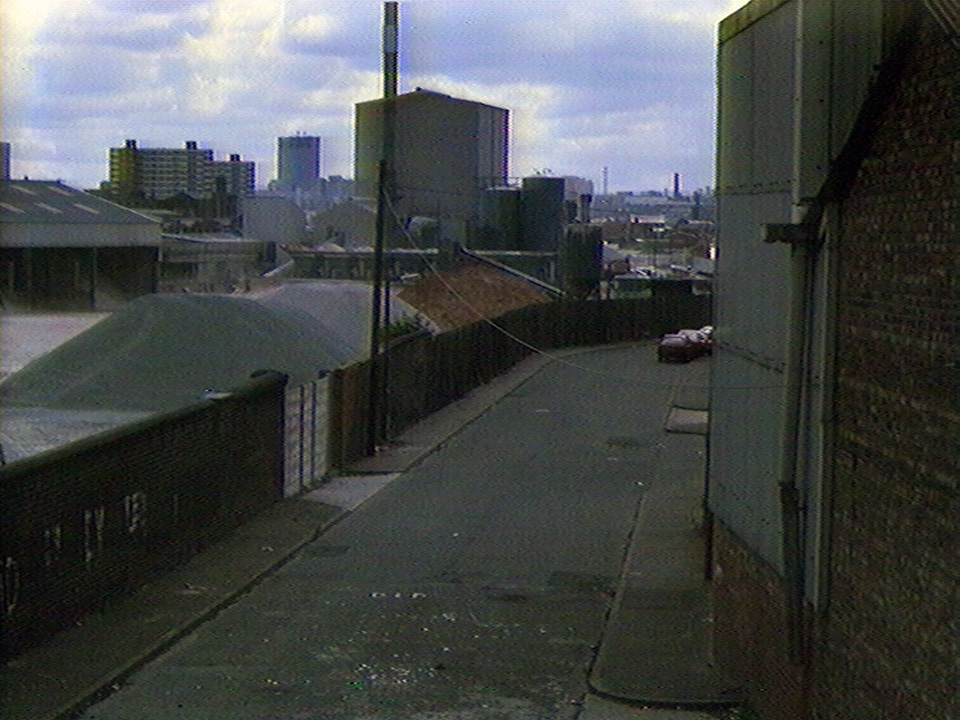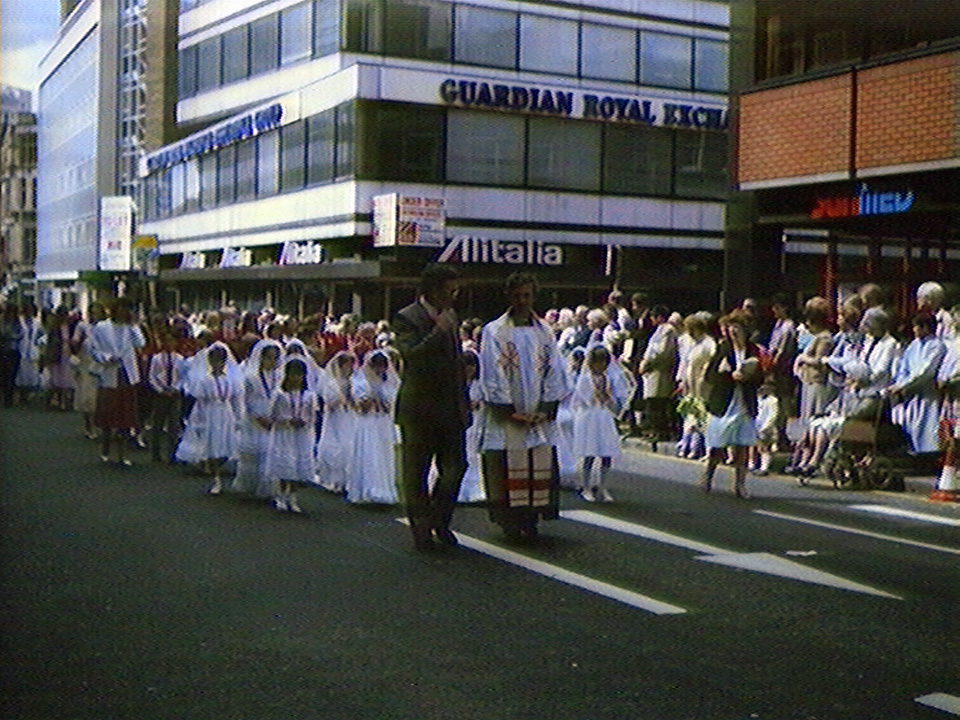 Law and order
The Crescent Police Station is the headquarters of Greater Manchester Police F Division and is therefore responsible for the policing in this area.
The crime rate of the area has steadily increased. The most common crimes recorded in the area are burglary and criminal damage. The average age of the offenders is 14-17 years.
The possession and abuse of drugs has become more widespread since 1982 and is likely to figure in police work in the future. The station has a special community relations officer in an attempt to improve the link between the police and the public, especially young people.
The station has fire arms on the premises together with a firing range. It also contains a black museum which contains evidence from crimes previously committed in the area and various examples of police equipment and police work from the past.
Industry
There are a variety of types of industry in the area both old and modern. Along Regent Road there is an Enterprise Zone, called The Red Rose Centre.This is being organised by the government to help create jobs by offering lower taxes and rates to industrialists.The jobs created are 1n large wholesale warehouses e.g. carpets, shoes and D.I.Y. The Red Rose Centre is a different type of industrial place to the rest of the buildings in the area because the centre does not manufacture goods. The centre is just a wholesale place.The centre is a modern building.
Along Liverpool Street there are a number of longer established manufacturing industries e.g. clothing manufacturers and an important feature is the Gasworks. These works supply the gas to the local area.
In the eastern part of the area there are a lot of older factories and warehouses. There are also three scrapyards.
Housing
The area has very little housing in it, as most of the land is used for industry. The housing that exists is of a great variety.
There are only a few private houses in this area, the rest are mostly council houses. Around the Crescent there is a terrace of Georgian houses, these are private houses.
Around Regent Road there are some local flats which have been converted to private ownership from council ownership. There are also some flats which are being demolished, the wasteland will probably be bought for more residential homes.
Along Liverpool Street the houses are a mixture of old and new, there are a few maisonettes, which are quite old.
At the eastern end of the area, there are some multi-storey flats.
There aren't many houses in this part of the area. Most are maisonettes. Some of these maisonettes are being modernised.
People and places of interest
James Prescot Joule was born in 1818 in New Bailey Street, Salford. His father was a well-off brewer. Joule was privately educated, he was taught by his mother's half sister until he was fifteen. He studied under Dalton at Manchester University. After he married he moved to Acton Square where he carried out experiments in chemistry and physics. The term Joule is still used in science as a unit of energy.
The house of James Prescot Joule is a museum with Joule's machines, apparatus and records in it. Joule house is also used for Youth Training Schemes and Community Programmes, funded by Manpower Services Commission.
Salford Art Gallery and Museum contains the Local History Library, Lark Hill Place and the Art Gallery.
Larkhill Place is a reconstruction of a Salford Victorian street, including shops, houses and even a cobbled street.
The Art Gallery is most famous for it's collection of paintings by L.S.Lowry. The Salford area provided the setting for many of his paintings. Salford Art Gallery contains the world's largest collection of Lowry's paintings, sketches and memorabilia.
Home life
A day in the life of an old age pensioner.
When a man reaches 65 years old and a woman reaches 60 years old, they become old age pensioners and receive money from the government.
What is your name? Mrs Rebecca Wardle.
Where do you live? 24 Lichfield Street, near Gerald Road.
How old are you? I am 80 years old, born February 1905.
What time do you get up? Around 7.00-8.00 am.
What do you do after breakfast? I clean up around the house and make my bed.
Do you live alone? Yes.
Do you have any visitors? My daughter comes twice a week and I have a home help (someone who helps those who have difficulties in helping themselves as they get older).
Do you go to Day Centres, Bingo, etc.? No, I find it hard to get around.
Does your daily routine ever change? No, unless I'm going out somewhere.
Do you often visit relatives? Yes, my son-in-law takes me to his house on a Saturday until Sunday.
Have you got  any hobbies? I like a nice read in the afternoon and I watch a lot of television.
When do you get your pension? Every Wednesday.
What do you think of the difference between Britain today and when you were younger? I think it has changed for the better.
What do you think of the younger generation? They are all right, not as bad as people say they are.
Do you ever feel lonely in the day or at night? Now and again, but it passes.
What time do you go to bed? Around 10.30 pm.
Do you make sure everything is locked before you go to bed? Yes, I like to make sure I am safe. You hear of so many people being robbed these days.
A child's day
A day in the life of a child of 14 years.
Name: Natalie Ann Hodson.
Address: 92 Linden Grove, Salford 5
Family: Mam, Dad, Brother.
School: Cathedral R.C. High School.
Religion: Roman Catholic.
On a Sunday, my mam usually shouts me at about 8.30am. It is then a mad dash to wash, dress and have a cup of tea-before going to church for the 9.00 am mass.
At about 8.55 am, my mam, brother and I, leave for church. It is only down the street, so we arrive at church for 9.00 am.
We meet my gran in church and sit with her during the mass. Church finishes at about 9.45 am and we go home.
When we get home my mam makes us a breakfast. My dad gets up at about 10.45 am and has his breakfast. At noon, my brother, Steve and I, take our dog, Gilbert, to Steve's girlfriends. She lives in Monton.
We get the bus there and call for Alina, and take our dog and her dog for a run.
At 3.00 pm we get the bus back home. We arrive home at 3.15 pm, and my mam, dad and gran arrive home from the pub.
We have our Sunday dinner then which is always a joint.
After dinner my gran goes home and I do my homework. I watch television until 7.00 pm, give the dog his dinner and take him for a walk. Whilst I am out, my mam makes me a snack.
I play records until about 10.30 pm, and I go to bed at 11.00 pm.
Area changes
Oldfield Road used to be completely different in 1922. (Which  is the year I am writing about.) There used to be lots of householders around this area unlike today, when there are factories, shops and public houses.In 1922 only a few shops e.g. butchers, newsagents and tripe dealers. There used to be more factories on Oldfield Road e.g. Steelworks, but on most of Oldfield Road were houses. There were shops, householders and factories from Chapel Street to Regent Road because this area was and still is an industrial area.
There were streets in 1922 which are still here today. Some of these are: Cow Lane, Middlewood Street, Liverpool Street, Hampson Street and Charles Street.Where the school is now, there used to be some factories and in the middle of the factories was a street called Albert Place , which used to run right through the factories and then stop.
If you walk down Oldfield Road nowadays you could see the big changes which have been made from 1922-1985.
Ordsall Hall
This is perhaps the most important timber framed building in Greater Manchester. It was built as a manor house in early Tudor times by the Radclyffe family. A brick built wing was added in 1639. It has been carefully restored in recent years and now houses a permanent exhibition of social life in earlier times. The most notable feature is the Great Hall with a sixteenth century spere truss.
Participants
Mr. Higgs, Mr. Cahill, Mr. Thorp, Mr. Brennen
Anthony Brogan, Stephen Cahill, Paul Davies, Paul Martin, Sean Pinkney, Shaun Pinkney, Mark Rowlands, Jason Scott
Maria Adamou, Alyson Burrows, Joanna Byrne, Tracy Collins, Annette Egars, Dawn Flitcroft, Andrea Harrison
Bernadette H., Natalie Hodson, Julie Jones, Julie Lomas, Geraldine Lord, Jayne McHenry, Cindy McNulty, Louise Meighan, Rebecca Mills, Julie Moore, Samantha Oakley, Carol Sweeney, Kerry Tyson, Darcy Wright
D-block GB-384000-396000 (SJ 84 96)
Photographs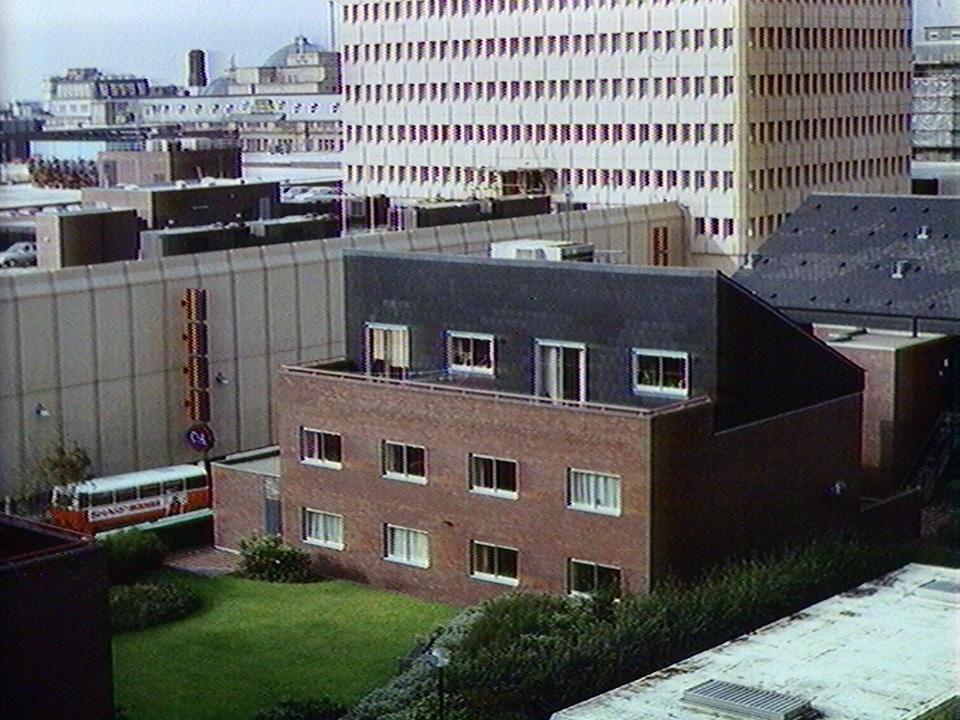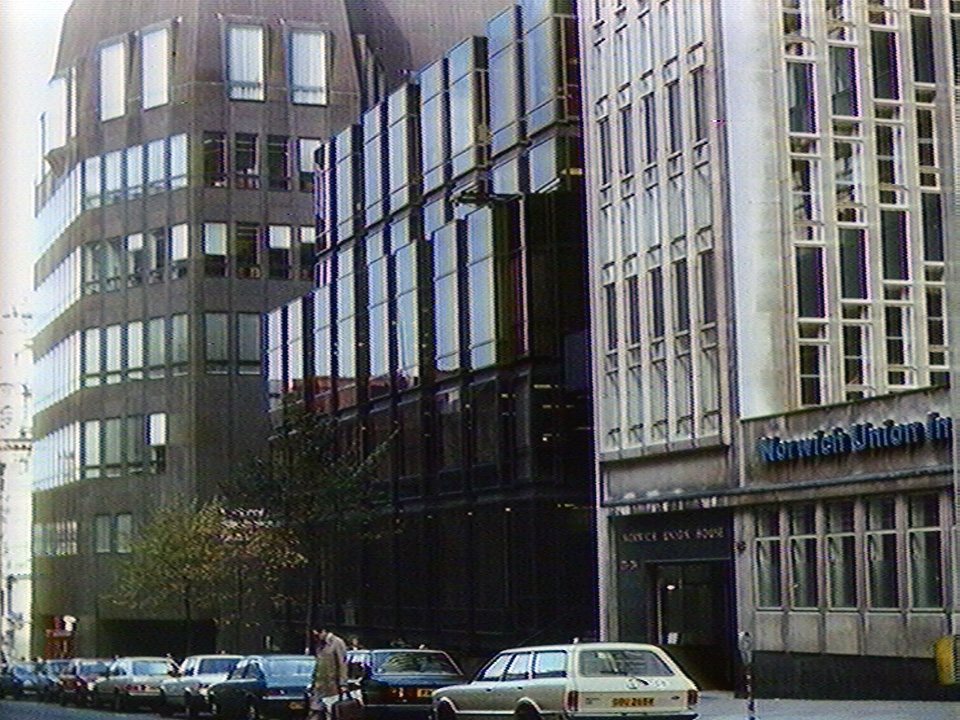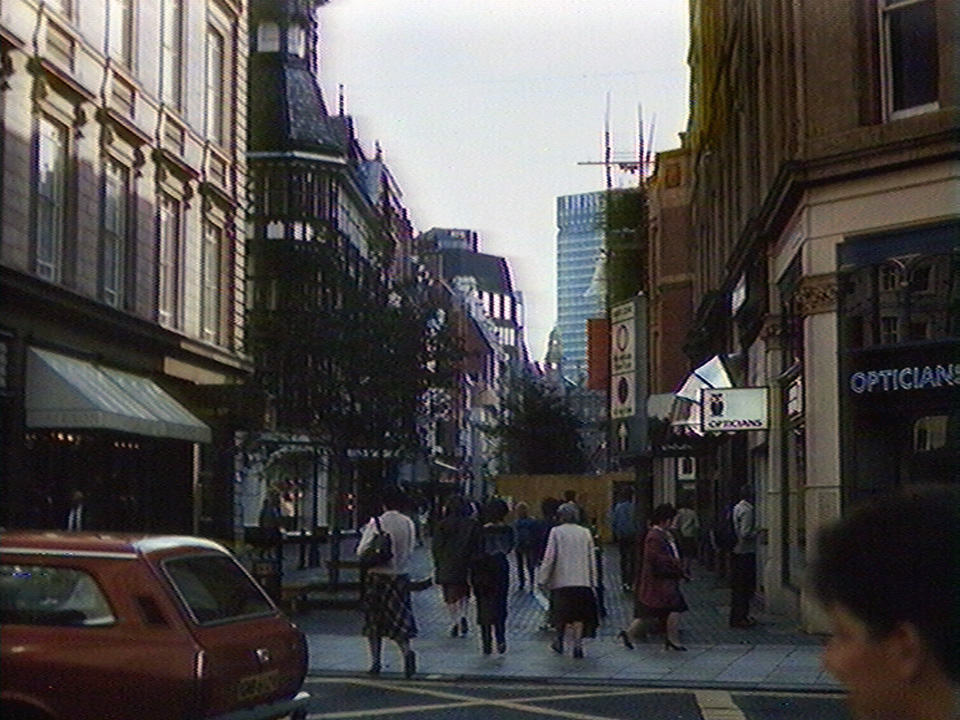 Review
This block contains a vast range of urban landscapes from city centre environments to inner suburban that have suffered urban blight, especially in the housing stock and in industrial decline.
The city centre is the major regional focus for entertainment, shopping and financial activities.
This block contains a tremendous variety of educational establishments e.g. the University of Manchester.
It is an interesting area from the point of view of both city centre and central area housing and industry.
City Centre Manchester
In recent years the city centre has been transformed by new developments. The Deansgate/Market street intersection has been redeveloped and much of Market street has been pedestrianised. This latter section has become the focus of shopping activity in the city centre. It has also led to the development of cultural activities with street musicians actively busking and sometimes artists working on the pavements.
Off Market street access can be made to the large shopping complex of the Arndale Centre. The tiles on the sides of this development are not one of the planners' better decisions. Part of this centre is a new bus station.
The most attractive pedestrian scheme has been done in St. Annes' square which is less busy than Market Street.
The centre of the C.B.D. has many large department stores and this makes Manchester a very high order shopping centre. The very large stores include Kendal Milne. Lewis's, and Debenhams along with large branches of Boots and especially Marks and Spencer.
Fieldwork has shown that people come to shop regularly in Manchester from long distances e.g. from Preston, Warrington and Chester as well as the whole of the Greater Manchester area. Travel to work also shows Manchester's wide influence.
One of attractions for the future is the redevelopment of the old Central Station as a sporting and conference centre. The vast roof of the Victorian station has been replaced and all the external brickwork has been mended and cleaned. The inside is now being completely rebuilt.
Transport in Manchester
Manchester is the major regional centre acting as a focus of communications for much of the north west. Both road and rail routes focus in on the city centre and allow Manchester to have a wide sphere of influence.
Thousands of commuters, especially from south Manchester, flow into the centre. This, plus the large number of shoppers, has meant the growth of multi-storey car parks around, and in some cases, within the city centre.
Many clearance sites have been converted into car parking areas and in this way bring more money into the city economy.
The city has an urban motorway, the Mancunian Way and operates traffic flow-ways at peak periods. Plans have been placed for a Victoria-Piccadilly station tramway link.
Redevelopment in Manchester
In the inner city areas of Manchester e.g. Ardwick, Beswick, Gorton and Bradford there is a high density of population. These areas have experienced a great deal of change over the last 20 years and serve to illustrate the various policies that have been tried to solve the problem of housing in our cities. Nearly all the original housing stock has been replaced and recently some of the earlier redevelopment sites are hoping to have redevelopment agencies e.g. "Fort Beswick". In these areas the social problems resulting from high density living, as well as the structural problems of the blocks, have led to the Council to demolish them and think again.
More recent schemes have learnt from past mistakes and many semi-detached and terraced houses are being built.
Industry in Manchester
This area containing part of the city centre and the area to the immediate east is dominated by a wide range of industrial activities.
Much of the development took place in the nineteenth century, particularly textile (cotton) mills and their associated functions. Many of the larger Victorian buildings on the edge of the city centre were large warehouses built to store the textile products destined for a world export market through Manchester docks.
Decline of these activities has led to a more varied pattern and the demands of the city centre now predominate. Major activities are concerned with distribution, printing, office needs and car servicing and repair. Many small enterprises operate from converted cotton mills. Post-war development of unified industrial estates.
Belle Vue in Manchester
This open space in Gorton has been the centre for splendid spectacles in the past, not unlike the Vauxhall Gardens in London in the nineteenth century. There used to be a zoological garden, a concert hall. an exhibition centre and a speedway track, all of them providing entertainment and recreation for the people of Manchester.
Today it keeps its reputation for speedway alone, only occasionally exhibitions are mounted and it is best known as a major bus depot or junction in east Manchester.
Some of the site of the zoological gardens has been developed for private housing.
Further Education in Manchester
It is said that the city contains the greatest concentration of students in Higher Education in Western Europe.
Undergraduate and Graduate studies in the Arts, Sciences, Technology and Medicine take place in an area centred on either side of Oxford Road. The Victoria University of Manchester, the University of Manchester Institute of Science and Technology plus the Manchester Business School all have students from Britain and abroad.
The Manchester Polytechnic is the culmination of a process  of federation, amalgamation  and absorption of a number of Colleges and the courses cover teacher education, community studies, industrial and manufacturing studies, and art and design. With the Teaching  Hospitals and the Royal Northern College  of Music there is a vast choice of work.
Manchester's Theatres
Manchester is a major provincial centre for live and film performances.
Within fifteen minutes of the city centre are theatres, concert halls and cinemas.
The theatres of Manchester each have a distinctive approach and present for the region a wide range of plays including the classics, modern drama and comedy.
The best known grew out of the 69 Theatre and is housed in a metal structure or capsule within the vast hall of the Royal Exchange, once the worlds' busiest cotton exchange.
The Contact or University Theatre and the Library Theatre provide smaller scale but similarly high quality productions. The Palace Theatre and more recently the Opera House are excellent exapmles of refurbished theatres attracting National companies
Arts/Crafts in Manchester
The City, University, Polytechnic and the private sector provide a wide range of art gallerys and museums.
The creative and the fine arts are well represented: the ancient and modern can be seen and studied.
Students of the pre-Raphaelite Brotherhood depend on the City Art Gallery for examples of the work of this nineteenth century group. After the Birmingham Gallery, Manchester has one of the finest collections of paintings by Hunt, Maddox Brown and Millais. The City has a representative collection of other English painters from the sixteenth century.
Manchester has the Portico Library, the Manchester Museum, the Whitworth Art Gallery and the Cornerhouse, a newly opened complex concentrating on film and photography.
Out migration in Manchester
The area to the east of the city centre once had thriving local communities employed in traditional industries such as textiles.
Changing economic and social circumstances have produced decline and decay. With the expansion of the city centre and post war redevelopment in general there has been little room for housing. This has meant that the population movement has been out of the central areas.
Many owner occupiers have moved into the outer suburbs leaving the area dominated by council housing.
One recent change in this pattern has been the establishment of 'penthouse' units on the top of the Arndale Centre in the heart of the city and more recent private building in newly cleared areas e.g. Belle Vue.
The Media in Manchester
Manchester is the major newspaper publishing area outside Manchester. The Guardian is just one of the national papers published and printed in Manchester, sharing presses with a very important regional evening paper called the Manchester Evening News.
Radio, both local and the commercial one - Radio Piccadilly, rival the national Radio 1 and 2 for music, sport and news.
The BBC regularly broadcasts concerts from its Oxford Road studio and the Royal Exchange Theatre is used for Midday concerts.
BBC Manchester and Granada TV supply the national networks with well devised programmes like Coronation Street and Brass Tacks.
Manchester's financial core
As well as being a major retail centre Manchester is also an important financial centre. The financial district is centred on the old corn exchange south of the main shopping areas. Here are located a large number of banks, building societies and insurance companies. These occupy mainly reconverted Victorian buildings although there are a few modern offices such as the National Westminster bank on King Street.
Fieldwork by students has shown that these institutions tend to cluster together in a relatively small area.
As well as the usual British Banks there are a number of foreign banks represented in Manchester such as the Banque National de Paris and the Somali Bank.
Manchester's Chinatown
A distinctive non-residential commercial and cultural sub-zone has been developed by people of Chinese origin in the last ten years. Its development reflects the increased immigration of people and capital largely from Hong Kong.
The area, fringing the C.B.D., consists of a few hectares bounded by Princess, Portland, Mosely and Charlotte streets. Premises have been obtained on the lower floors of abandoned textile warehouses and are utilised by wholesalers, restaurants, suppliers of oriental artefacts, financial, cultural and consulate services.
Street architecture has been modified by Chinese art and provides a backcloth for traditional festivals such as the Chinese New Year. A weekend school uses Shena Simon College.