A service remote control is required for calibration. The RM Series RMC12010 remote is a 3rd party service remote clone available from sites such as Ebay. The RMC12010 remote required is shown in the following picture: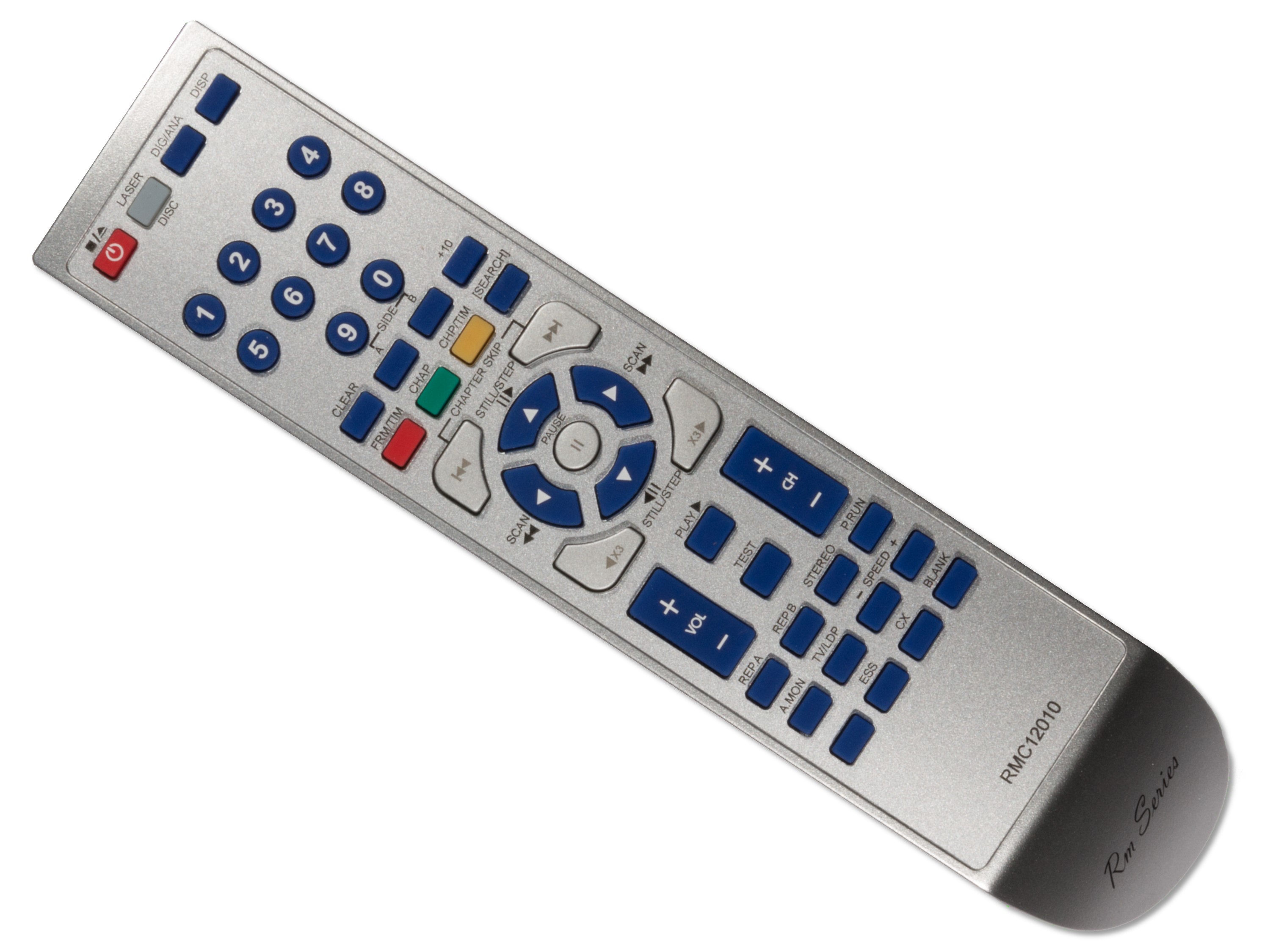 Please note that the RMC12010 remote does not correctly map the MULTI-REV and MULTI-FWD buttons for the LD-V4300D (and these buttons are required for the calibration process). The correct codes for these buttons are given in the Pioneer LD-V4300D Overview page. You can use either a combination of the RMC12010 and the Pioneer CU-V113A remote, or use a programmable remote and the key-codes provided on the linked page from this site.
Pioneer service remote controls produced after the GGF1067 do not seem to produce the correct key-codes for MULTI-REV or MULTI-FWD either. Again, a combination of the CU-V113A and the service remote can be used.
The mapping of the RMC12010 service remote keys (to the original service remote keys) are shown in the following table (note: the most important one to know is [ESS] followed by [TEST] which switches the player into test mode (there is no need to power on holding DISPLAY or use any DIP switch settings on the LD-V4300D)):
Function
Operation
LD-V4300D
Service Remote
RMC12010 remote
Open
Press the [OPEN/CLOSE] key in the stop mode.
Press the [REPEAT MODE (REPEAT B)] key.


Stop
Press the [OPEN/CLOSE] key in the play mode.
Press the [REPEAT A] key. Press the [REJECT] key in the play mode.


Play Video and audio are on Tracking is open
Press the [PLAY] key in the stop mode.
Press the [TV/LDP/ key. Press the [PLAY] key in the stop mode.


Still
Press the [PLAY] key during TRACKING OPEN in the play mode.
Press the [CX] key in the play mode. Press the [PLAY] key during TRACKING OPEN in the play mode.


Tracking open
Press the [STEP FWD] key in the play mode. Press the [PLAY] key in the play mode.
Press the [STEP FWD] key in the play mode. Press the [PLAY] key in the play mode.
[BLUE UP]
Tracking closed
Press the [STEP REV] key in the play mode. Press the [PLAY] key during TRACKING OPEN in the play mode.
Press the [STEP REV] key in the play mode. Press the [PLAY] key during TRACKING OPEN in the play mode.
[BLUE DOWN]
Slider in
Press the [SCAN REV] key.
Press the [SCAN REV] key.
[BLUE RIGHT]
Slider out
Press the [SCAN FWD] key.
Press the [SCAN FWD] key.
[BLUE LEFT]
Tilt servo off


Press the [SPEED DOWN] key.
[SPEED-]
Tilt servo on


Press the [SPEED UP] key.
[SPEED+]
Tilt decrease & servo off


Press the [SKIP REV] key.
[CHAPTER SKIP REV]
Tilt increase & servo off


Press the [SKIP FWD] key.
[CHAPTER SKIP FWD]
Display on


Press the [DISPLAY] key.


Display off


Press the [AUDIO MONITOR] key.


Search address entry
Press the [+10] key in the play mode.
Press the [+10] key. The last address searched will be displayed


Search address input


Input the address using [0] through [9] keys.


Search execute


Press the [CHAPTER/FRAME] key.


Focus balance = 0


Press the [MULTI FWD] key during playback.


Focus balance = 1


Press the [MULTI REV] key during playback.


Plunger pull


Press the [PAUSE] key.
[PAUSE]
Plunger release


Press the [REJECT] key.
[POWER]
Return to test mode menu
Press the [DISPLAY] key.




Go to diagnosis mode


Press the [TEST] key.
[ESC] then [TEST]
Cancel test mode


Press the [ESC] key.
[ESS]
Test menu navigation
| | | | |
| --- | --- | --- | --- |
| Front panel | Service remote | RMC12010 remote | Function |
| DISPLAY | N/A | | Exit from test mode |
| STEP FWD | STEP FWD | BLUE UP | Next selection item |
| STEP REV | STEP REV | BLUE DOWN | Previous selection item |
| PLAY | PLAY | PLAY | Execute selected item |
| N/A | 0 – 6 | 0 – 6 | Execute the item corresponding to the number |