Graphics
The graphics for the Eco Disc CD-ROM are the similar to the graphics used by the Eco Disc AIV laserdisc, however the logo has been modified to match the contents of the disc: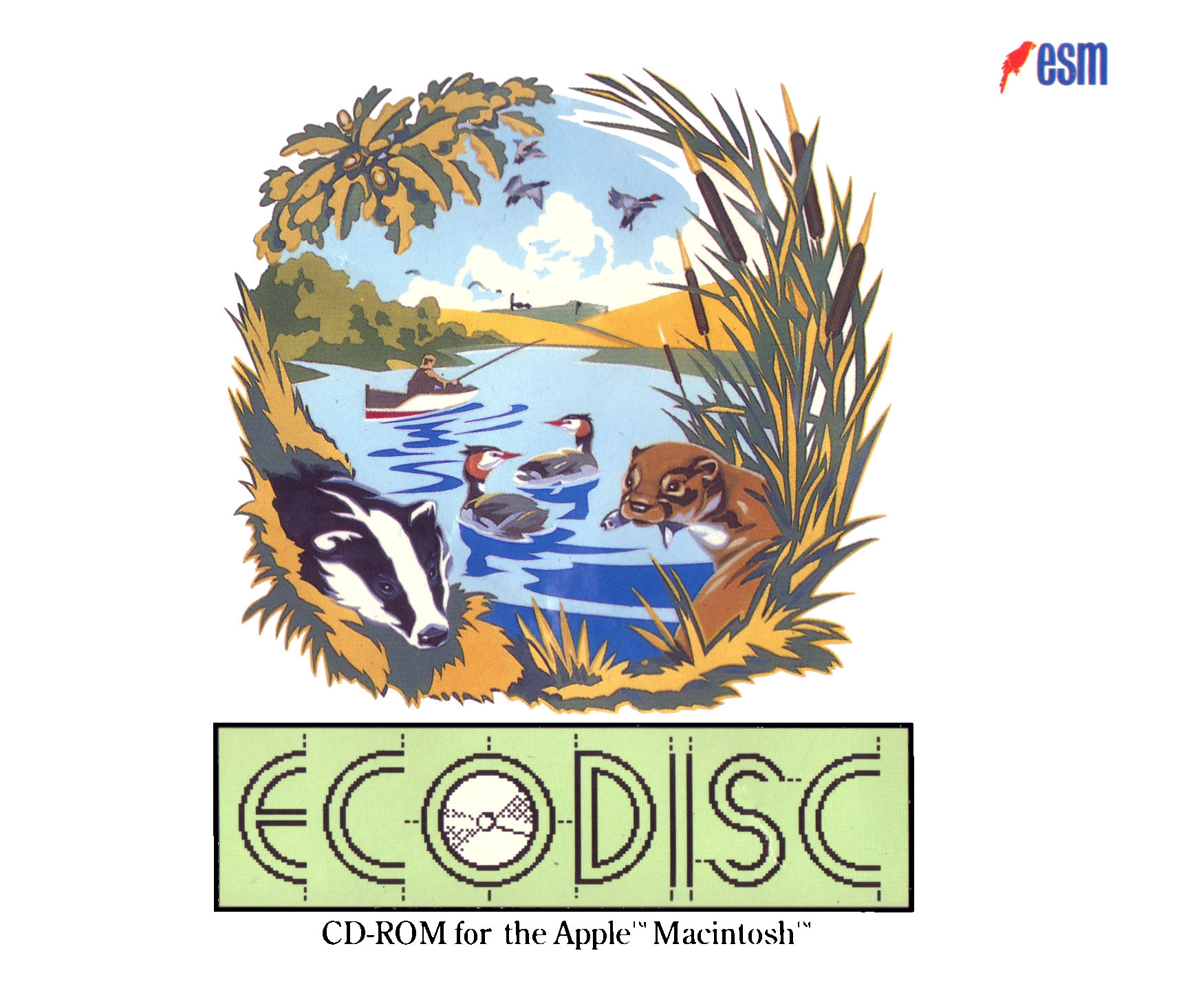 Purpose
The Eco Disc CD-ROM was the result of a project between Apple, ESM and the BBC's Interactive Television Unit.  The disc is an adaptation of the original AIV laserdisc produced for the Apple Macintosh machines (and supports both monochrome and colour Macs).  The big innovation was support for multiple languages.
Excerpt from the user manual:
The Ecodisc is a simulation of a real nature reserve in which students are free to explore and experiment for themselves.  The disc is aimed mainly at students aged 14-18 who are studying ecology.  However, this multi-lingual version (in nine languages) may have applications across the curriculum.  The simulation provides an ideal opportunity for problem solving and encourages students to explore in their own way and at their own pace.
Although individual or whole class use can be rewarding, it is suggested that the best results will come from use in small groups.  The Ecodisc is at its best when it is used in conjunction with traditional field trips.
The CD-ROM
The Eco Disc CD-ROM user manual
The user manual is available in the following PDF document:
CD-ROM ISO image
The following zip file contains a burnable image of the CD-ROM (note this image is formatted for the Apple Mac and is a format called 'High Sierra' and can only be read using an Apple Mac.  The CD-ROM is designed to be used with System 6 and does not function correctly in System 7 or above:
As the CD-ROM image is not in ISO 9660 format it can be difficult to use the image with an emulator.  The following image of the disc was made using Apple Disc Copy and then compressed using StuffIt.  This image is easier to use with emulators as (once uncompressed) it can be mounted directly by Mac OS: